Biography
Rachel Perrin is a Melbourne based visual artist with an interest in drawing, painting and portraiture.
After completing high school at the Victorian College of the Arts in 1994 (dance), Perrin spent fourteen years working in the fashion industry and lived in Europe, Asia and Australia during that time. Her time in front of the camera influenced both her aesthetic and artistic process.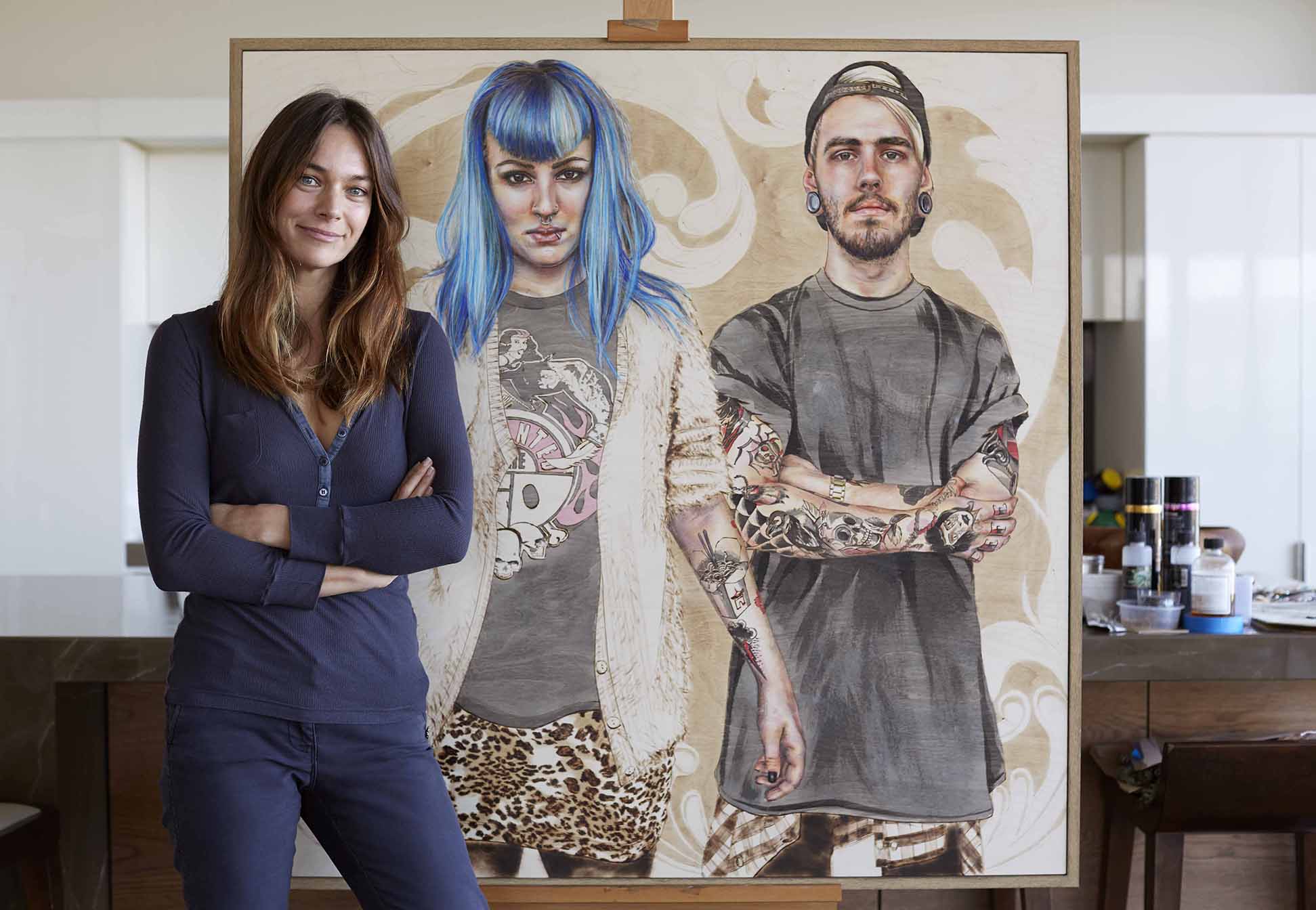 Artist statement 
I cannot separate myself from how the people around me feel.
I suppose it is just empathy, a vital tool for life that most of us have to varying degrees, but for me it can be exhausting, an involuntary love-hate experience which I can neither escape nor control.  The tone of a room, the mood of a stranger, of a friend, of anyone… I was drawn to portraiture as a way to transcribe what I absorb, to focus emotional energy and to engage in the very personal artist/sitter relationship.
My work asks the question, 'Is there an essence of someone that may be captured?'  Through drawing, painting and burning, I aim to tap into a person's sense of self, so that the end response of the subject to the finished work is as important as my own understanding.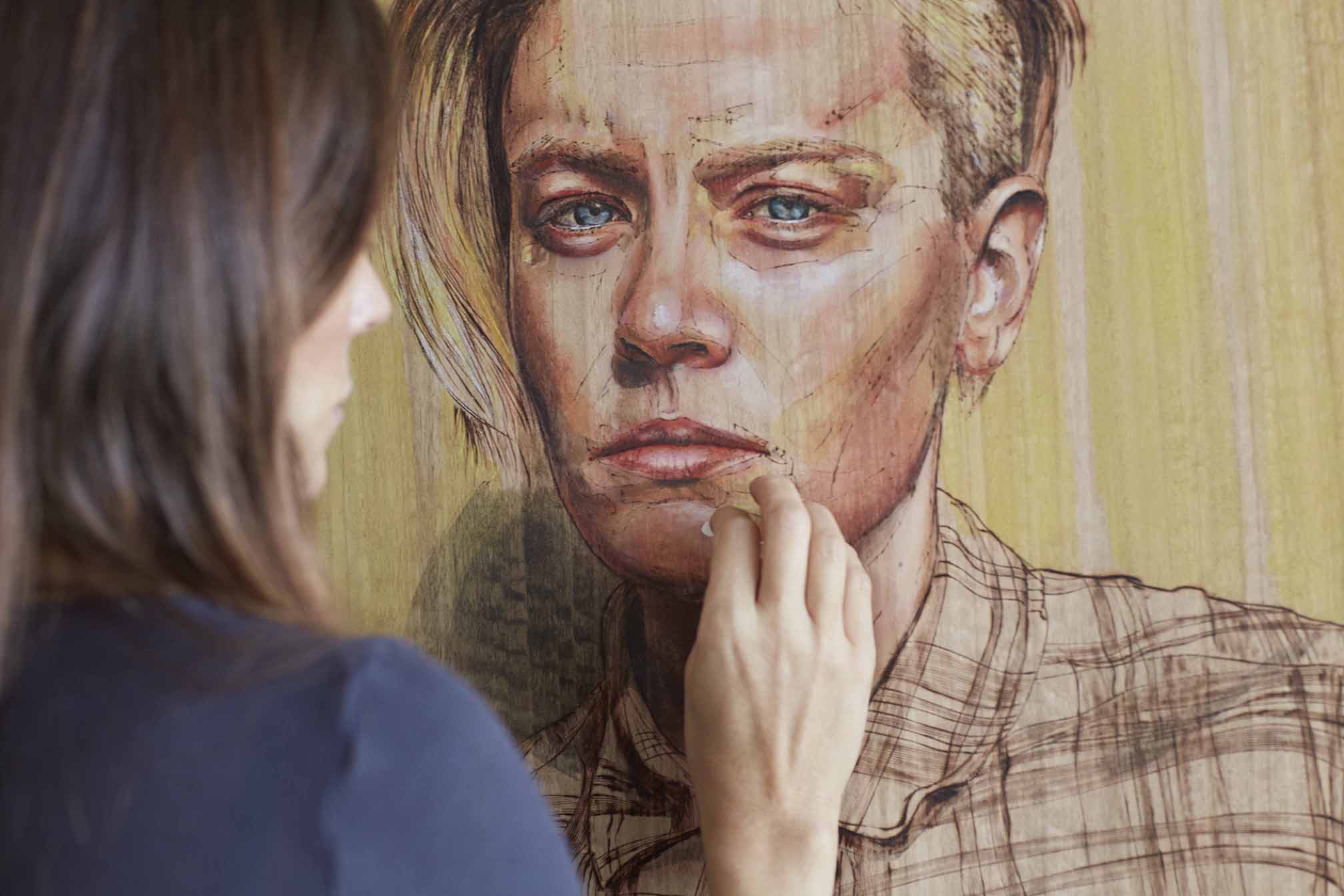 Conceptually I am interested in the sitter's response to his or her own painted likeness, in the value we still place on the artist's process, and in how it feels and what it means to the subject to be painted.
Mark making and materiality are important, and I work constantly to find new ways of representing gesturally what I see and feel.  The combinations of mediums used are unique to the sitter: usually oil, ink and charcoal over burning on raw materials.
There is a quiet about my work despite its scale, layering, texture and complexity: and careful contemplation and recognition of the inner sense of being that we all share.
—
CV 
2012 – 2016
Diploma of Visual Arts – Latrobe College of Art and Design, 138 Cromwell Street, Collingwood, Melbourne
2015
Painting intensive, David Ralph
2014
Drawing intensive, New York, USA
1993 – 2007
Fashion Model
Chadwick Model Management – Melbourne and Sydney
ProMod Model Agency – Munich and Hamburg
Flash Model Agency – Milan
Elite Model Management – Paris
Visage Model Agency – Japan
—
Exhibitions
2018
Group show NATURE AS SHE
Off the Kerb,
Johnston street, Collingwood
2017
Solo show BEING HUMAN
Off the Kerb,
Johnston street, Collingwood
2017
Group show OFF THE KERB 10th ANNIVERSARY SHOW
Off the Kerb,
Johnston street, Collingwood
2017
Group show DARK HONEY
Off the Kerb,
Johnston street, Collingwood
2017
Group show YOUTH
Off the Kerb,
Johnston street, Collingwood
2016
Solo show ADORABLE DELINQUENTS
Off the Kerb,
Johnston street, Collingwood
2016
Group show HOB Final Show
House of Bricks,
Budd street, Collingwood
2015
Group show PLASTIC
Student gallery Latrobe College of Art and Design,
Latrobe St, Melbourne CBD
2015
Solo show THE LIBRARY
Student gallery Latrobe College of Art and Design,
Latrobe St, Melbourne CBD
2015
Group show COLOUR
Student gallery Latrobe College of Art and Design,
Cromwell St Collingwood, Melbourne
2015
Group show $2 SHOP
Student gallery Latrobe College of Art and Design,
Cromwell St Collingwood, Melbourne
2015
Group show BRAVARTO
Gallery 314, 314 Church Street,
Richmond, Melbourne, Australia
—
Prizes
2019
Portia Geach Memorial Award, finalist 2019
2017
Winner PECULIAR PORTRAIT ART PRIZE
Fitzroy, Melbourne